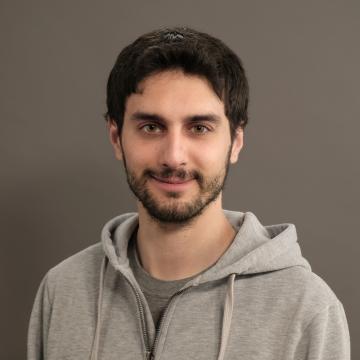 Department of Sociology
Asst. Prof. Rok Smrdelj
Rok Smrdelj (1992) is an assistant and junior researcher at the Department of Sociology, Faculty of Arts, University of Ljubljana. His fields of interest are sociology of media and communication, sociology of migration, and sociology of culture.
He holds a bachelor's degree in comparative literature and sociology and a master's degree in sociology of culture earned at the same faculty. For his thesis in comparative literature he received the 2014 Prešeren Award by the Faculty. During his master's studies he received a Peace Institute award for the best student seminar paper on hate speech (together with Jaka Planovšek, supervised by Roman Kuhar, PhD). As a student, he also works on the international project DARE (funded by the European Commission and supervised by Roman Kuhar, PhD). During his master studies he was awarded a state merit Zois scholarship.
As a junior researcher, he is involved in the research programme Problems of Autonomy and Identities at the Time of Globalisation P6-0194 (funded by the Slovenian Research Agency and headed by Milica Antić Gaber, PhD). He is also a scholarship holder of eng. Milan Lenarčič University Foundation.
He is engaged in the international project Call it Hate: Raising Awareness of anti-LGBT Hate Crime (funded by the European Commission and headed by Roman Kuhar, PhD) and the national project Citizenship and Discrimination: Intersectional Approach to Research of Social Exclusion (funded by the Slovenian Research Agency and headed by Roman Kuhar, PhD).
He regularly participates in the international conferences. He is a member of the Slovene Sociological Association (SSA) and the European Sociological Association (ESA), within which he is active in the sections RN07 Sociology of Culture, RN18 Sociology of Communications and Media Research, RN23 Sexuality and RN35 Sociology of Migration.
Selected references
Smrdelj, Rok and Jože Vogrinc (2020): Migrant Objectification in Television News Discourse in the Context of Criminalisation: An Example Concerning Slovenian Public Television Broadcast News. In: N. Kogovšek Šalamon (ed.): Causes and Consequences of Migrant Criminalization: 287–305. Cham: Springer.
Podreka, Jasna, Smrdelj, Rok in Roman Kuhar (2019): Acceptance with reservations: LGBT people in Slovenia. In: P. Godzisz and G. Viggiani (ed.): Awareness of anti-LGBT hate crime in the European Union: 180–197. Warsaw: Lambda Warsaw Association.
Učakar, Tjaša, Fabijan, Emanuela, Smrdelj, Rok and Ana Ješe Perković (2019): Raziskovalna dinamika na področju diskriminacije v Sloveniji: uveljavljanje intersekcionalne analize. Časopis za kritiko znanosti, 47 (275): 129–159.
Smrdelj, Rok (2015): Roman Prebujenje – prvenec Zorka Simčiča. Slavistična revija, 63 (2): 197–210.
Full bibliography is available here.