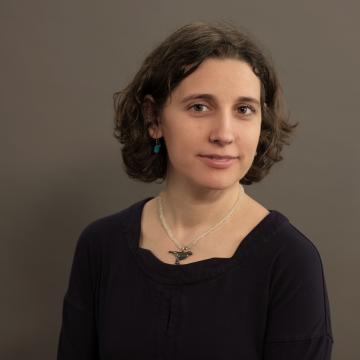 Cabinet
5/2/10 (Tobačna 5)
Department of Slavistics
Asst. Prof. Špela Sevšek Šramel
Špela Sevšek Šramel (1979) studied Slovene language and literature at the Faculty of Arts of the University of Ljubljana. She finished her doctoral studies focusing on contemporary Slovenian and Slovak literature with a comparative doctoral thesis "Literary Tendencies of the Slovak and Slovene Short Narrative Prose (1989-2000)."
Her additional education includes further studies in Slovakia at the Constantine the Philosopher University in Nitra, Studia Academica Slovaca, Comenius University in Bratislava and the Institute of Slovak and World Literature at the Slovak Academy of Sciences. She received scholarships from the Slovenian Ministry of Education and Škrabec-Association and further foreign institutions.
Since 2006 she works as graduate research assistant at the Department of Slavistics at the Ljubljana University Faculty of Arts. Since 2005 she has been a jury member at the International Literary Festival Vilenica, organised by the Slovene Writers' Association. Additionally, she is member of Editorial Council at journal Slovenská literatúra (Institut of Slovak Literature at Slovak Academy of Sciences, Bratislava).
Her research focuses on the Slovak and Slovene literature after the 2nd World War, paying attention to the relationship between social and individual, the semantic function of literary space and narratology in particular. She has published articles and literary translations of Slovak authors (V. Balla, S. Chrobáková, D. Mitana, P. Vilikovský) in these respective fields.