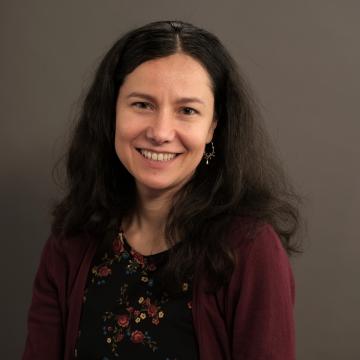 Office hours
zimski semester: četrtek 12.00 do 14.00 ure
letni semester: petek 12.00 do 14.00 ure
Kabinet 414
Poučevanje? Pravzaprav gre bolj za držanje prostora. Ustvarjanje prostora za poslušanje. Prisluhnemo temu, kar postaja. In smo ranljivi, pripravljeni odpreti se in pustiti, skočiti v neznano – in ostajamo s tem, kar se želi porajati.
Otto Scharmer
Department of Educational Sciences
asist. dr. Marjeta Šarić
Marjeta Šarić, rojena Plevčak leta 1977,  je doktorica psiholoških znanosti. Po končani gimnaziji v Celju je nadaljevala študij psihologije na Oddelku za psihologijo Filozofske fakultete Univerze v Ljubljani, kjer je diplomirala leta 2002, magistrirala 2008 in doktorirala 2015. Po diplomi je bila eno leto zaposlena kot šolska svetovalna delavka v osnovni šoli, naslednje leto pa kot učiteljica v podaljšanem bivanju. Nato se je zaposlila kot asistentka na Oddelku za pedagogiko in andragogiko Filozofske fakultete UL. Glavno področje njenega pedagoškega dela je pedagoška psihologija, sodeluje še pri izvedbi nekaterih drugih predmetov.
Doktorirala je s področja čustev pri poučevanju in vlogi refleksije pri soočanju z njimi. Njeni raziskovalni interesi segajo še na področja kritične refleksije pri poučevanju, preverjanja in ocenjevanja znanja v visokošolskem poučevanju in šolskega svetovalnega dela. Poleg tega izvaja predavanja in delavnice s področja preverjanja in ocenjevanja znanja za visokošolske učitelje.
Šarić, M. in Šteh, B. (2019). Implementing reflective practice to improve our participation in the community. V K. S. Ermenc in B. Mikulec (ur.), Building inclusive communities through education and learning (str. 117-133). Newcastle upon Tyne: Cambridge Scholars.
Marentič Požarnik, B., Šteh, B. in Šarić, M. (2019). Izkustveno učenje. Ljubljana: Znanstvena založba Filozofske fakultete UL.
Šarić, M. in Šteh, B. (2017). Critical reflection in the professional development of teachers: challenges and possibilities. CEPS journal: Center for Educational Policy Studies Journal = Revija Centra za študij edukacijskih strategij, 7(3), 67-85.
Compulsory Courses
Elective Courses